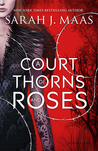 A Court of Thorns and Roses
by
Sarah J. Maas
My rating:
5 of 5 stars
My Blog
|
Twitter
I love Sarah J. Maas, and for that reason I was a little tentative going into this novel, because I thought it may be
too
similar to the
Throne of Glass
series - but I could not have been further from the truth. Maas, you can do no wrong. I was so obsessed with this novel, I found it hard to concentrate on my holiday, because I just wanted to keep reading. It's one of those stories that gets you so invested you just
have
to know what is going to happen next.
I know that edge-of-your-seat page-turner books don't just happen by chance - they happen through great writing. Maas really built a believable and intricate world, a world that I genuinely felt like I was living in when I read
A Court of Thorns and Roses
. I definitely believe that epic fantasy novels
need
a believable world to work at all, and this one absolutely had that. I got lost in Feyre's human life, as well as her life among the fae - beautiful descriptions of both the places and their customs ensured this. I am a huge fan of Maas' previous series, but this novel went above and beyond even that series in world-building terms.
The characters in this novel were all complex and multi-layered. A lot of books based in fae mythology tend to get bogged down with excessive details and ridiculous amounts of fairy species. Luckily, this was avoided by
A Court of Thorns and Roses
completely. I was also a tad worried to start with that Tamlin would be too similar to Rowan from
Heir of Fire
, and although there were definitely parallels, the two characters stand on their own. No character felt external or superfluous to the story line, and even the morally questionable characters were somewhat sympathetic and extremely interesting (is Rhysand anyone else's favourite character?) Feyre was equal parts likable and realistic - a good combination for a protagonist. I did not love her as much as Celaena from the
Throne of Glass
series, but she was a strong and interesting character nonetheless.
A Court of Thorns and Roses
was the perfect balance of action, mythology and romance. Speaking of which, I adored the main romance plot of this novel. As you know, it is based on
Beauty and the Beast
, which is a story I have long adored. The romance in this novel strongly resembles its fairy tale predecessor; there are very few surprises where the relationship is concerned (at least, early on). One thing I feel I must mention is how sex positive this novel is. I am a strong proponent of sex in YA novels (think tasteful scenes, not erotica), because it is
realistic.
Not every girl is a virgin, and not every couple holds hands for five years before taking things further. I love that Maas included a more sexual component to her novel, whilst keeping it limited enough so that it did not seem central to the plot.
Overall, this was a gripping and unique story with an interesting take on fae mythology. It is distinct from Maas' previous series, but with her customary beautiful writing style and kickass characters. I would recommend this book to practically anyone who could get their hands on it!
View all my reviews