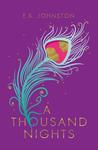 A Thousand Nights
by
E.K. Johnston
My rating:
4 of 5 stars
A Thousand Nights
was an enrapturing and gorgeously written story. It was very different to a lot of books in the YA genre, and even to
One Thousand and One Nights
, on which it was based. The differences are what made it stand out in my mind as being an engaging and enjoyable story.
These days, with the YA genre being so popular, it can be hard to find a book that is truly
original
- especially if you are an avid reader. So many books are pumped out with the same, tired story lines, and this is why
A Thousand Nights
was so refreshing. Even though this book centres around a marriage, it is not an instalove romance. Even though this book features a protagonist with unique powers, it is not about a Really Special Person™. Even though this book features a female friendship/sisterhood, it is not promoting jealousy and competition between women. So basically, I loved this book because it took some major YA tropes and flipped them on their head.
The writing in this novel had a lyrical quality to it that was absolutely enthralling. I felt transported into the world because of Johnston's brilliant writing. I would say that Johnston's writing is what kept me interested for so long - this is not an action-packed novel, but the quality of the prose meant that I did not view this as a negative. I felt our MC's urge to survive without the need for constant fear and fight scenes.
Normally my reviews are a lot longer than this, but
A Thousand Nights
is hard to describe without giving away the central plot points - so I will just leave it here. Johnston's high quality writing speaks for itself and this story just
needs
to be read and experienced to be understood.
I would especially recommend this novel to veteran YA readers who feel as though they have read it all.
View all my reviews